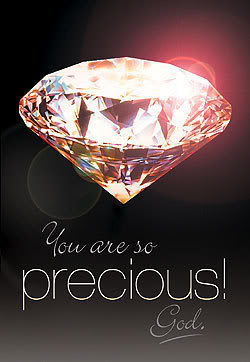 A Diamond in The Sky
I read a most astounding thing;
It moved me so, to write.
I looked up at the stars above;
I viewed them just tonight.
In awe I stood and gazed to sky;
Oh, How Great you are.
Your wonders they are endless, Lord;
You made a special star.
It's beauty's fine and very rare;
It's gone through heat and flame.
Once a perfect twinkling star;
but never more the same.
A giant diamond, gleaming bright;
Shines somewhere in the sky.
Amazing Lord, the things you do;
It makes me want to cry.
The largest diamond here is small;
Great beauty it must shine.
Reflecting brilliant light and color;
Made by your hand divine.
This reminds me of your beauty;
How valuable you are.
Worth more than any diamond;
A wondrous unique star.
Lord, you've gone through fire for me;
You paid the sinners debt.
I am a diamond in the rough;
I am not finished yet.
But you are brilliant, a perfect jewel;
None next to you, compare.
Ever shining in God's pure light;
Your gleam is everywhere.
Oh Lord, you are so beautiful;
A diamond in the sky.
Your love so brightly shines to men;
Because you came to die.
Because you passed from death to life;
Because you loved men so.
Lord, that is why you're beautiful;
A special star aglow.
By: Susan Y Nikitenko
2009
I change the word cosmic to
giant - 2016
All My Poetry Is Free For Christian Bible Centered Ministries And Must Remain Unchanged In Any Way. All Information Must Also Be Included. All Other Purposes Are With Written Permission Only. All Rights Reserved